9 Tre's in The NCAA Tournament a testament to Footwork!
We all watch dozens of highlights and often miss the details that got us there. Here is a quick lesson on shooting off the Catch by Baylor's  Brady Heslip. While he is not the most athletic player on his Baylor team his display of FW and balance deserves the highest mark of basketball athleticism. Remeber most of the work is done before you have the ball in your hands.
#1 (0:03)- OB Play-First make is a classical OB play for a teams best shooter.  Off the botched play, he drops his hips pulls his R leg with his L foot squares up and knocks it down.
#2 (0:05) Transition – Shooters running the floor with head turned eyes back at the ball moving up floor, ball in the air feet in the air, finishes with balance.
#3(0:08)- Step into your shot– The easiest look for Heslip all night, steps into his shot off the sagging D.  Also displays his range when stepping into his shot.
#4 (0:14)-Staggard Baseline Screen to curl– Does a great job of getting his inside foot around the turn(race car theory) and whips his right hip around to get toe to rim for elevation into jump shot.
#5 (0:20)-Down Screen to Two Foot Hip turn– Off the down screen  heslip attacks the ball off the hop with a rapid hip rotation towards the hoop. Notice he sinks the center of gravity to get vertical in his jump shot.
#6 (0:28)- OB Play – Heslip Does a phenominal job at effecient footwork on this set OB play. He Uses his inside foot to push back to three point line into a right left pattern.
#7 (0:37) –Classic Flare or Fade- Does a great Job here showing his hands  and getting his feet towards the rim by opening the hips off reverse pivot hop to R,L.
#8 (0:42)- Pitch and Catch- using a small crossover step for timing Heslip gets his inside foot down while staying square to the basket.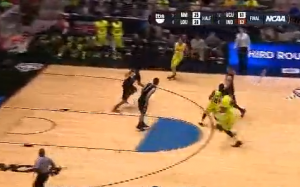 #9 (0:49)- Very Similar to #7 a Flare Cut from NBA range.
Video