THREE MOVEMENTS TO BUILD A QUICK FIRST STEP
Author BrandonGuarneri
FILE UNDER: BASKETBALL, BOSTON, CELTICS, DRILL, EXERCISES, FIRST-STEP, MOVEMENT, NBA,QUICK,  ROUTINE, TRAINING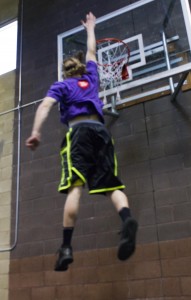 A quick first step, like Boston Celtics point guard Rajon Rondo's, is a valuable weapon on the basketball court. First-step speed keeps defenders from pressuring you too closely, since they want to avoid being burned by a drive to the hoop. That extra space gives you more opportunities to impact the game.
You can improve first-step quickness by training with specific exercises and movement patterns. Michael Atkinson, Elite Pro Performance national consultant and A.C.E. certified personal trainer, put together a series that can help any player get to the rim on a regular basis. "Speed can be found in the details of the movement," says Atkinson.
Incorporate these exercises into a warm-up or pre-game routine, or use them in a speed workout two to three times per week.
Two-Inch Run With Ball
Starting in athletic position, with ball in hand, begin dribbling on the baseline
With each step, move two inches forward, keeping the ball in front of your body
Take a hard dribble and a long stride at the free throw line, but don't shoot
Finish in an athletic position to train stability and balance

Coaching Points: Stay on balls of feet // Moving toward the baseline, explode out of last step with one hard dribble
Sets/Reps/Rest: 2×4, rest 30 sec. after first set
Walking Lunge to Triple Extension with Ball
Descend into Lunge position while bringing the basketball to your chin
Shift weight to lead leg while in Lunge
Explode and push through lead leg to triple extension while driving opposite knee to chest
Press ball up to ceiling, simulating a layup or dunk
Hold form through extension for a split second, then drop into Walking Lunge and repeat on other side

Coaching Points: Focus on Lunge form // Push force through your big toe and try to activate the glute
Sets/Reps/Rest: 2x length of half court
Reverse Pivot Drop Step
Face training partner in triple threat stance at the top of the key with back to basket
Partner cues you by touching your shoulder
React with a left or right reverse pivot drop, stepping in the direction of the cue
Push through pivot foot and stride to rim
Take last step and transfer energy while jumping to rim off a single-leg max jump

Coaching Points: Remain balanced and in a stance through the pivot // Push through the pivot foot to stride to rim
Sets/Reps/Rest: 2×8, rest 30 sec. after first set
Source:  EliteProPerformance.com
Photo:  Michael Atkinson, Sierra Strength and Speed, draftexpress.com