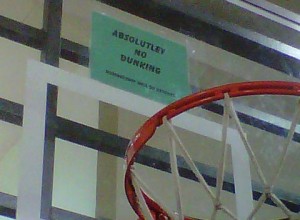 In a world full of prejudice and restrictions, "No Dunking" is just one more obstacle for guys with hops to jump over.   I have played by the rules in hundreds of gyms, parks and leagues across the world, and the one house rule I dislike more than any other is the No Dunking policy. A policy that may make sense to someone who has never been above the rim but to those of us who have the ability, dunking can be a matter of safety.
We all understand the policy for recs and gyms with limited resources and ol'skool hoops without breakaway rims to ban this athletic movement, but can we be open minded?  To outlaw dunking in a gym with breakaways because of fear of  liabilty is unjust to the young dreamer who's head is in the clouds, above the rim.
WARNING -No dunking policies can put an invisible ceiling on a young players game and may result in second guessing, fear of performance, instability in the air and much more!
"Just Say, 'No!' to No Dunking is a movement much greater than one mans efforts to not be held down by an invisible ceiling on his game." -unknown
No Dunking gym rules started  being posted in the  1980's gym because someone hoopin thought they were  "83" Dr J and went Diesel on a non breakaway  basketball goal. As a result of broken rims, gym and recreation directors started outlawing dunking at their facilities because they thought it was a liability to their facilities and may result in injuries.                                                    
History
Invented in 1976 by an Iowa man, breakaways were  invented so that the hoop and rim can handle the force of a 300lb+ center hanging on it like a jungle gym.  Also so the player does not break a finger or bone with little give from the metal rim.
Dunking was banned in the NCAA from 1967 to 1976. Many have attributed this to the dominance of the then-college phenomenon Lew Alcindor(now called Kareem Abdul-Jabbar) upon his entry into the NCAA. Subsequently, the no-dunking rule is sometimes referred to as the "Lew Alcindor rule."(source wiki)
JUST Say, "No!" to No Dunking
The movement has just begun. Take video or picture of signs with No Dunking   call to attention this biased unnecessary rule and maybe just maybe get a quick dunk in… but no hanging.
TwitPic No Dunking Signs to @EliteProNv
Link to Shaq backboard shatter http://www.youtube.com/watch?v=gc_OwhmBLak